Energy Efficient Commercial Window Tinting
The savings and benefits are almost immediate.
Fastest payback, or ROI, available at less than 3 years.
Rejects 99% of UV rays
Reduce glare by up to 90%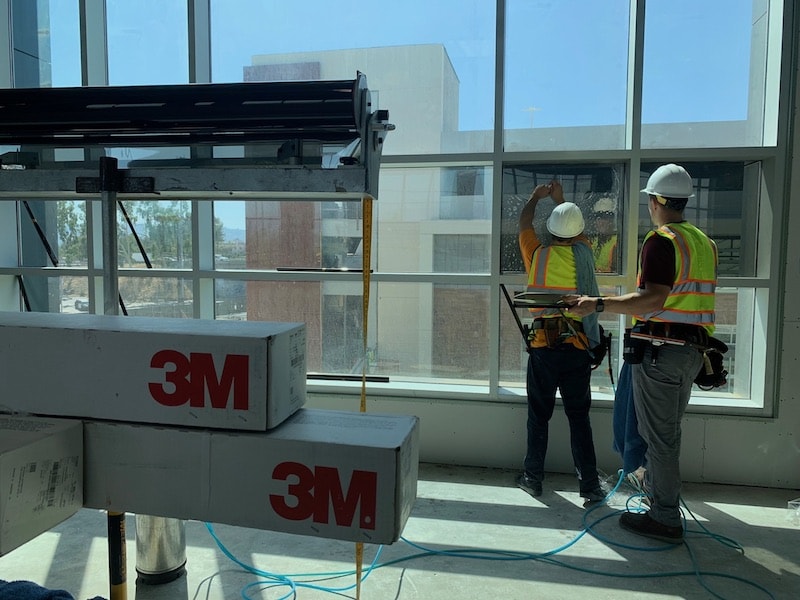 Reduce your building's energy bills with 3M Thinsulate® Window Films which help keep the sun's heat out in the summer and your inside heat from escaping during winter months. Single-pane windows will perform nearly as well as dual-pane glass, at a fraction of the cost of replacement windows. And it's virtually invisible!

Fast payback — as little as 3 years

Save as much as 19 kWh per square foot of glass.

Many utility companies offer incentives

Reduce carbon emissions

Save more money, no matter which climate zone you are in.

Use toward potential LEED credits.

Pro Glass Works can complete an Energy Plus energy audit on your building to calculate your projected savings
Help keep your tenants comfortable, and you'll keep them for the long run!

Reject heat and reduce hot spots in summer months by up to 79%
Increase insulation and minimize cold spots.
3M Sun Control Window Films filter out 99.9% of the harmful UV light spectrum, helping protect your office furnishings from fading, and keeping your tenants safe from harmful UV rays. UV filtering window films are recommended by the Skin Cancer Foundation®

Reduced Glare
Tired of wearing your sunglasses indoors? 3M Sun Control Window Films reduce annoying sun glare by up to 90%!
Reduce reflection from computer screens, whiteboards and televisions.
Most commercial 3M window films come with an extended 8-10 year warranty direct from the manufacturer, 3M. In most cases, these warranties even cover glass breakage and seal failure.
Do I need window tinting?
Are your utility bills high? Are there annoying glares in the building? Do employees or tenants complain of the temperature inside the building? Most often, the answer is yes. But if it is discerned that there's a better option, we will always make you aware of all your options so you can find the best one that works for you.
What product options are there?
3M™ Thinsulate™ Window Film is an efficient, cost-effective way to meet your window insulation needs. Our unique low-e window film helps retain warmth in the winter and cool air in the summer by increasing your windows' insulation value. A single-pane performs close to a double-pane, a double-pane performs close to a triple-pane.
Prestige Series window films use metal-free nano-technology to create reflectivity that's actually lower than glass. Views remain true to life because the only thing you'll see day or night, inside or out, is a beautiful window. These spectrally-selective films reject up to 97% of the sun's heat-producing infrared light and 99.9% of UV rays to keep you cool, comfortable and protected.
Night Vision window films help block the sun's damaging UV rays, and control heat and glare. You can let natural light into your space by day, and, thanks to a low interior reflectivity, still enjoy the view out by night. Medium to dark versions of this film also provide privacy so a passerby won't be able to see into your building during the day.
High performing neutral and reflective films. High heat reduction. These tinted, reflective films combine high heat reduction with a quick return on investment.
Does the solar film have to be dark?
Nope. With today's innovative technology, the stereotypical dark tint can be a thing of the past. Ask us how!
Not Sure Which Commercial Film is Right For You?
Here is our recommended 3 Step Process
This is a common question that we would be happy to help answer, but we can't help you if we haven't met you.
Everyone's needs are different. Budgets and preferences are always different. We're here to listen.
After discussing your needs, we will provide recommendations and samples to help you decide which film is right for you.
Ready to Start Saving Money?
We would be happy to answer any questions you may have.